Who we are
We're a group of men who seek to enrich our life and legacy through the power of camaraderie, the sharing of bold ideas, and the common purpose of doing good works that make a lasting impact.
We're looking to reframe the paradigm of masculinity through our pillars of
RESOURCES, RECIPROCITY and RESPECT.
OUR VISION
To build a better future for our families and community by enhancing the lives of each individual member.
Attorney, writer, speaker Charlie Vargas shares on why he became a Mastermind Connect member
Build
We work in the creation of seminars focused on providing the knowledge and tools necessary to build proper business relationships and sound investments.
Enhance
We encourage our members to seek a balanced lifestyle. Each of our members is an extension of the group, advocating the benefits of a sound mind, body and soul.
Give Back
We support local charities, volunteer time, mentor young men, and sponsor fundraising events for causes our members are passionate about.
Photos by Kenan Banks.
On Sunday morning, October 29, Brooklyn Borough President Eric Adams and Mastermind Connect joined to lead nearly 100 men in the Black Men Meditate initiative to bring awareness to domestic violence, inside Brooklyn's Ft. Greene Park. Men of color from different generations, backgrounds, professions and meditation experience came together to discover their inner peace through meditation. You can read more about it here.
With your help, we will continue the journey of wellness and connection. Click on the registration form below to continue the navigation.
YOUTH INITIATIVES
Young people are the future leaders of tomorrow. We ensure that they grow up to be productive and happy members of society by offering them alternative ways to channel their energies, and offering mentoring programs, where they can see themselves represented by Mastermind Connect members who share their experiences and backgrounds in an honest and refreshing way.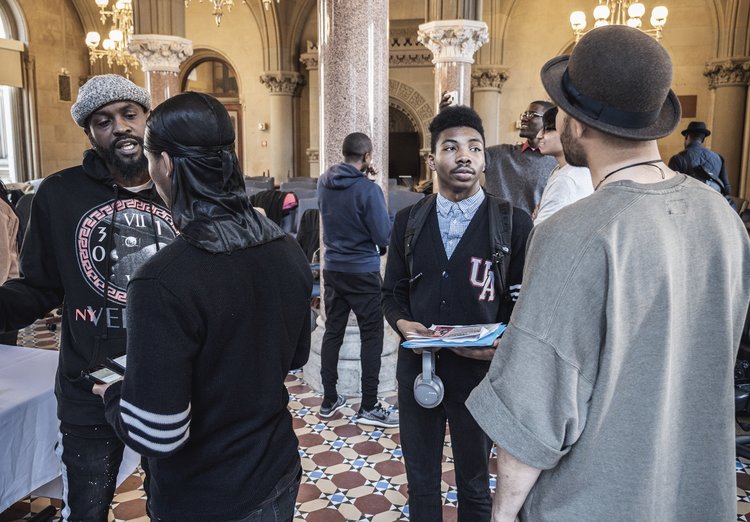 Although most of our events are "members only," we also make room for events open to the public, geared towards building community. Learn more about how to become a member here.
SPONSORS & AFFILIATES
These are some of the entities and businesses that allow us to serve and thrive