Mastermind Connect Goes to Colorado: #Bizcation
It is said that "Great men are forged in fire. It is the privilege of lesser men to light the flame." A commitment to changing the narrative surrounding masculinity, and helping other men to better themselves, has allowed us to assemble some of the most talented and genuine group of men around. It's been a little over a year since we officially launched, and we're now entering Mastermind Connect 2.0, which means it's time for upgrades.
The Mastermind Connect founders decided to take an executive #bizcation to discuss the future of our great organization and to strengthen our bond by traveling to the great state of Colorado, spending four days of good vibes, mountain biking, patio meetings and base camping. #blessed.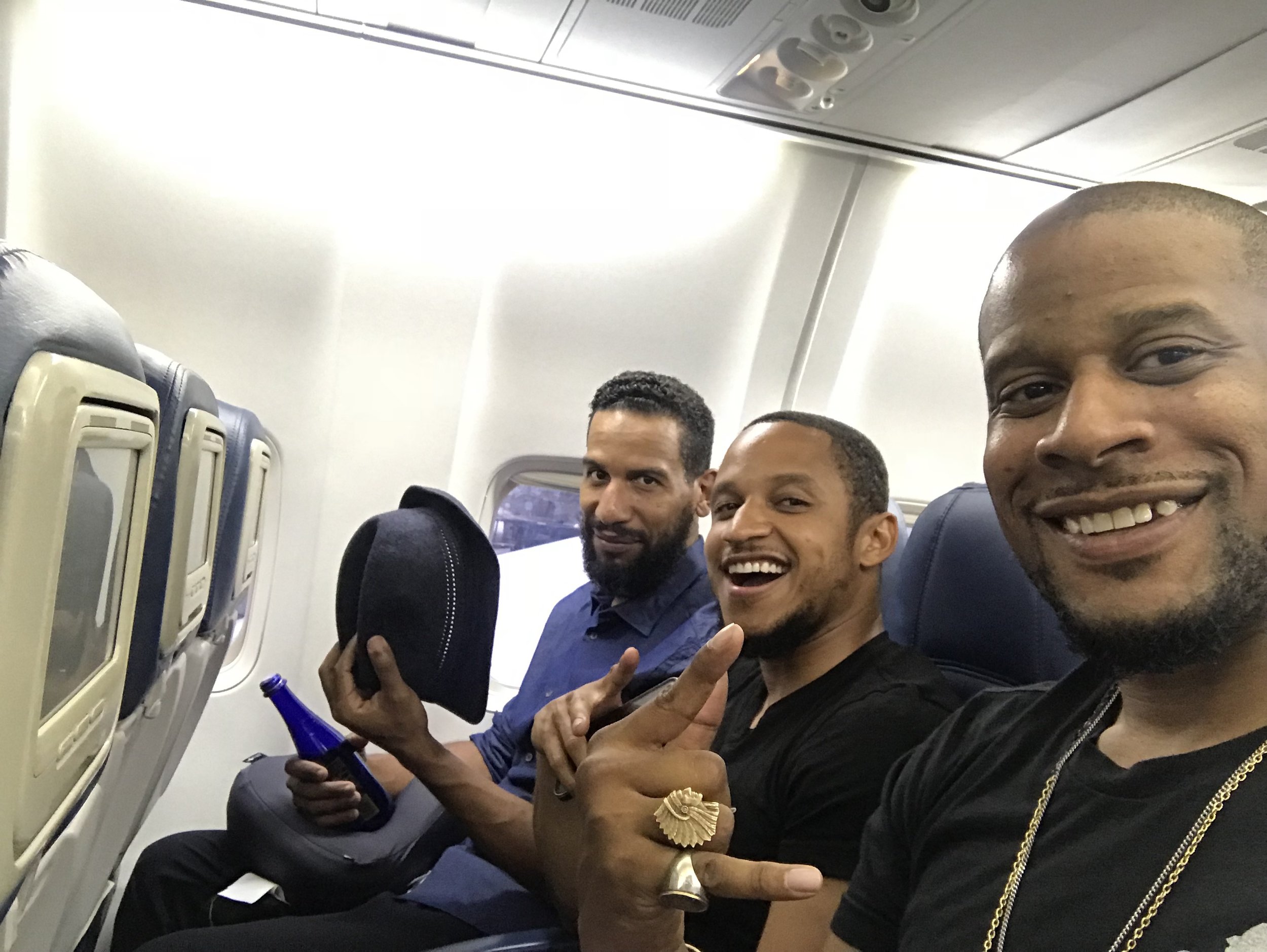 Our good friend, Carlos Martinez - first Colorado based Mastermind Connect member - hosted us at his beautiful home in Colorado Springs, where you can see the Rocky Mountains from just about anywhere. Manny Almonte, Vernon Jones and myself arrived on the last flight coming out of New York City, Wednesday night, and Washington, D.C. based JD Weatherspoon did the same. The next morning, we woke up to a really special view of the famous Pikes Peak mountain, with a combination of a cool breeze mixed with some dry heat - which, coupled with the high altitude, gave me some trouble breathing during our morning boxing session with the punching mitts. While the team went for "a much needed" mountain bike ride, I stayed behind to prepare our meeting agenda. Because #bizcation.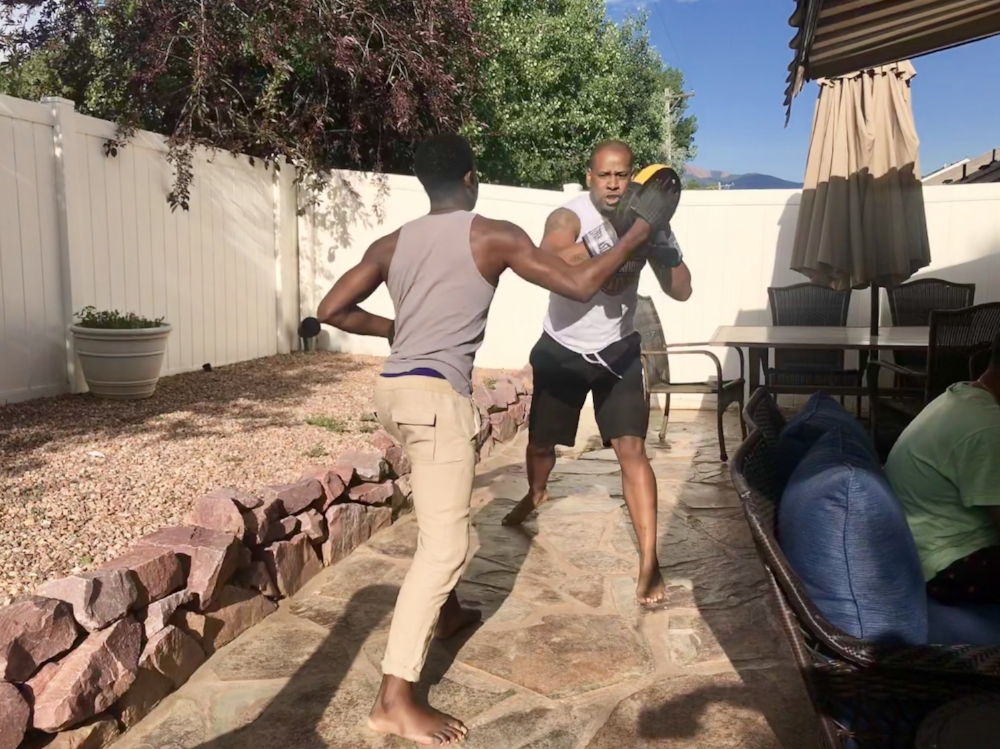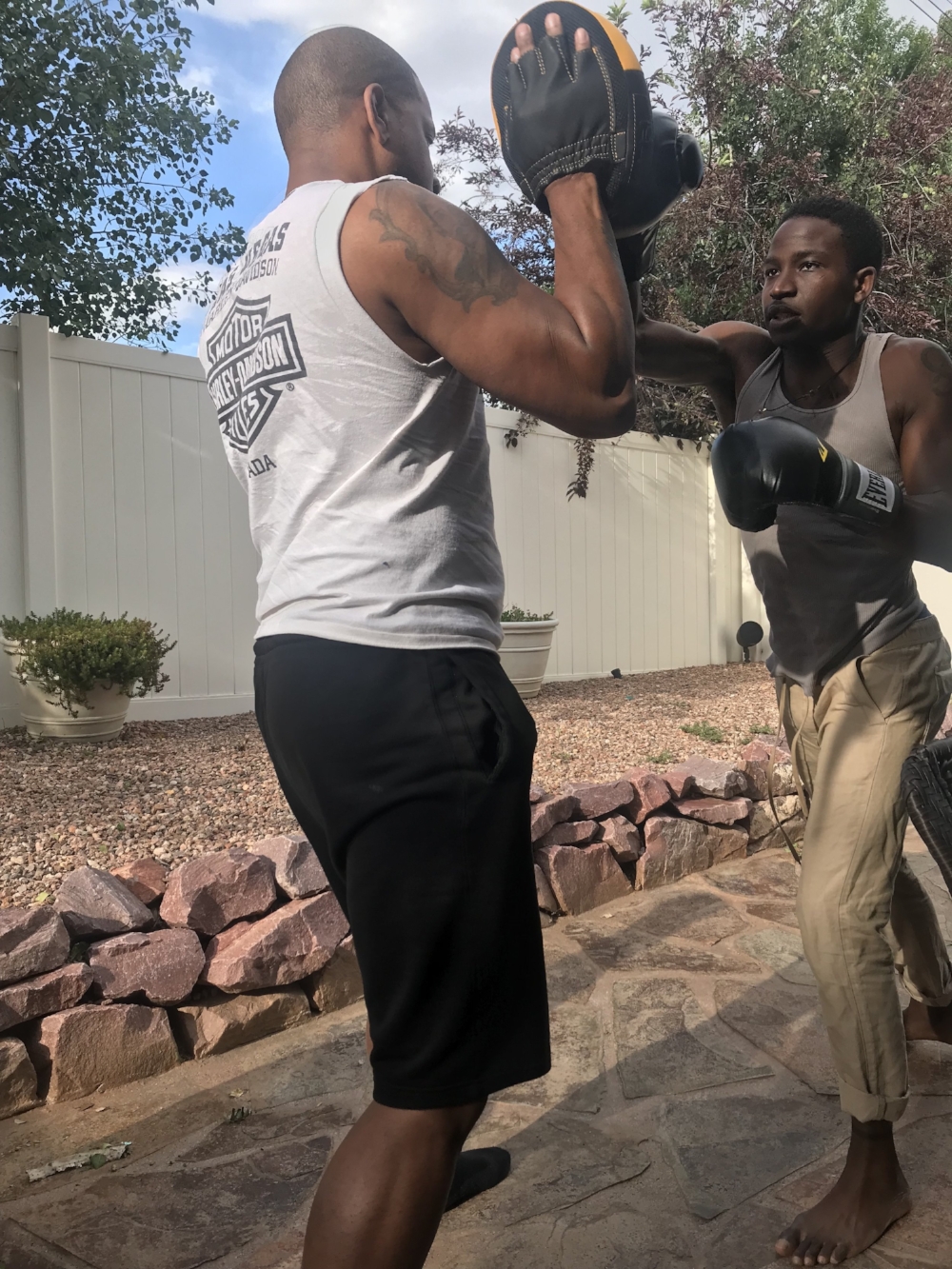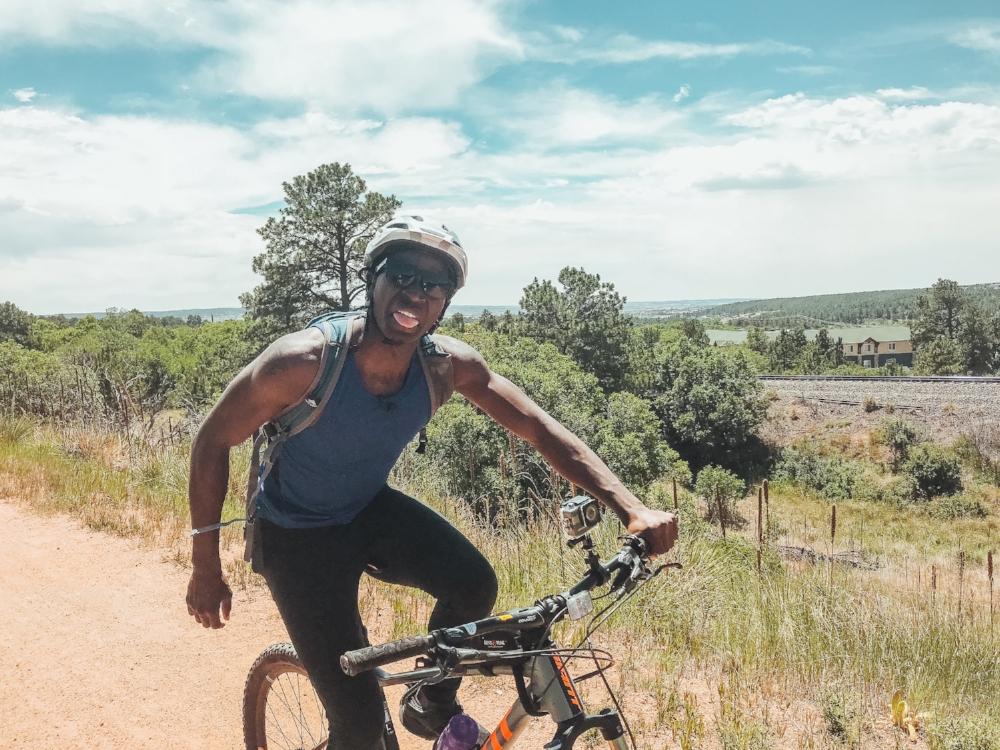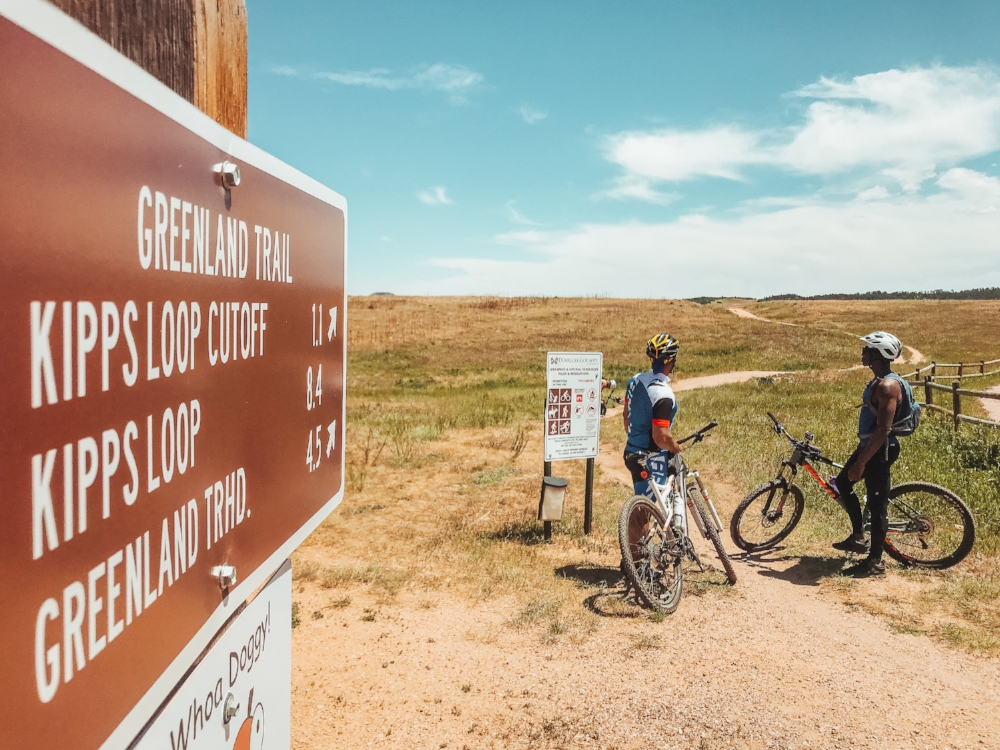 We discussed how we can make things better for our members, and how we can make a bigger impact with our youth, and community at large. The conversations were intense; we ended up digging much more into our own shortcomings, fears, and insecurities than we intended, and we realized that without in-depth self-reflection, we would never be able to fully deliver on what we promise as a men-focused support group.
To remove any possibility of distraction, we decided to head towards the Great Sand Dunes National Park, for a weekend of camping, stargazing, and deep reflection. As we headed southwest towards the desert, off of I-25 and into SH-69, we decided to blindly follow Waze's instructions to ditch the asphalt for some off-road action. Since we were driving a rented GMC SUV, we said why not? What we failed to do, was fill the gas tank before deciding to act like cowboys. We got reminded we were city folks after all, when we lost cell phone reception and started to realize we were in over our heads. Luckily, a few real cowboys passed by, and schooled us to where the hell we were going; the Medano Pass Primitive Road, a place we were not ready for. Like its occupants, our SUV's performance is better suited for the city and light off-roading, and we were not going to try to test its limits without enough gas in the tank.
As we approached the bigger than life Rocky Mountains, we noticed large amounts of smoke coming from a mountain's peak. It resembled a volcano eruption, but we kept pushing, because… ya know… cowboys. We had started out late. We had to scramble to find an available campground by doing Google searches while on the road. Our resident navigator and logistics expert, Manny Almonte, yelled: "I think I found one… it's called UFO campground… quick, call this number!" I dialed the number, and an elderly man picks up; "What do you want? I can't hear you!" I replied "Sir, I just want to… hello?" A woman jumps on, equally disgruntled, and gives us the camping ground info. We decided against that one based on the feeling and energy.
We finally found a campsite through Hipcamp.com called Wizards 420 Friendly Camp, and a gentleman we spoke with, named Timothy, was cooler than the other side of the pillow. He was happy to host us, and was eager to show us some local hospitality. Tim was a really friendly wizard. We were intent on making it there, but didn't realize that the smoke we saw before was actually coming from a wildfire, which we now learned it was the Spring Creek Fire that had already burned 38,000 acres down during the prior four days, and it had now grown to 41,000 acres. It was now only 7 miles from Timothy and the Wizards, but he said it was blowing West, and the campsite was located on the East side. "Naturally" we were foolishly curious about continuing the journey. The issue was that, as were making our way there, we had four more hours of driving, going up and around the mountains to avoid driving the burning bushes. Dusk was falling upon us. It was getting dark, windy and cold. We had already driven for four hours, and were exhausted.
Speaking of which, everyone make it a point to thank Manny for being the voice of reason. when you next see him, because thanks to him, we settled on a nearby campground he saw off the side of the road, in the outskirts of Salida, CO.
We jumped out of the rental and began putting together a 7 person Coleman tent, in the midst of heavy wind gusts, under the SUV's headlights and some rocks that were laying around. Within minutes, the breeze was picking up and it required a serious group effort to get the tent assembled before it got any colder or windier. That's when Timothy called us and told us, he had just received an order of evacuation, as propane gas tanks were beginning to explode, and things were pretty much hell on earth.. We looked at each other and after a moment of disbelief, we took on setting up that tent with gusto.
After finally settling in, we got our vibe together and began discussing Mastermind Connect 2.0. I learned so much about these men, even though I speak with them more than I do my own mother. It spoke to how important the "Connect" portion of what we do is. I still can't believe that we brought a bucket of Kentucky Fried Chicken to a camping site, but we were told that we could not setup a campfire, because... #wildfires.
At around 2AM, the weather dropped almost 30 degrees and we hit the hay. The strong winds pushed the tent violently through the night and we barely slept, except for JD, who somehow managed to get to the point of snoring (seriously, those Florida dudes are DIFFERENT).
The magic of watching the sunrise from the tent window made up for the lack of sleep. We woke up and made our way towards a heavy water stream. Unbeknown to us, were forged in between a valley adjacent to the Arkansas River. After a moment of meditation and reflection, we all felt like we left something behind that no longer served us. We drank, prayed, set intention and discarded. This trip felt like a purge of the last bit of self-doubt we all have.
The final stop on our way back to Colorado Springs was journeying to the "Garden of The Gods" and overlooking some of the most beautiful landscape this country has to offer. No wonder why REI has such a strong foothold in this state. Seeing how a narrow, unassuming path can lead to a vista that majestic was inspiring, to say the least. As we travel down this windy path and collective journey that is Mastermind Connect, we'd like to believe we're growing as well.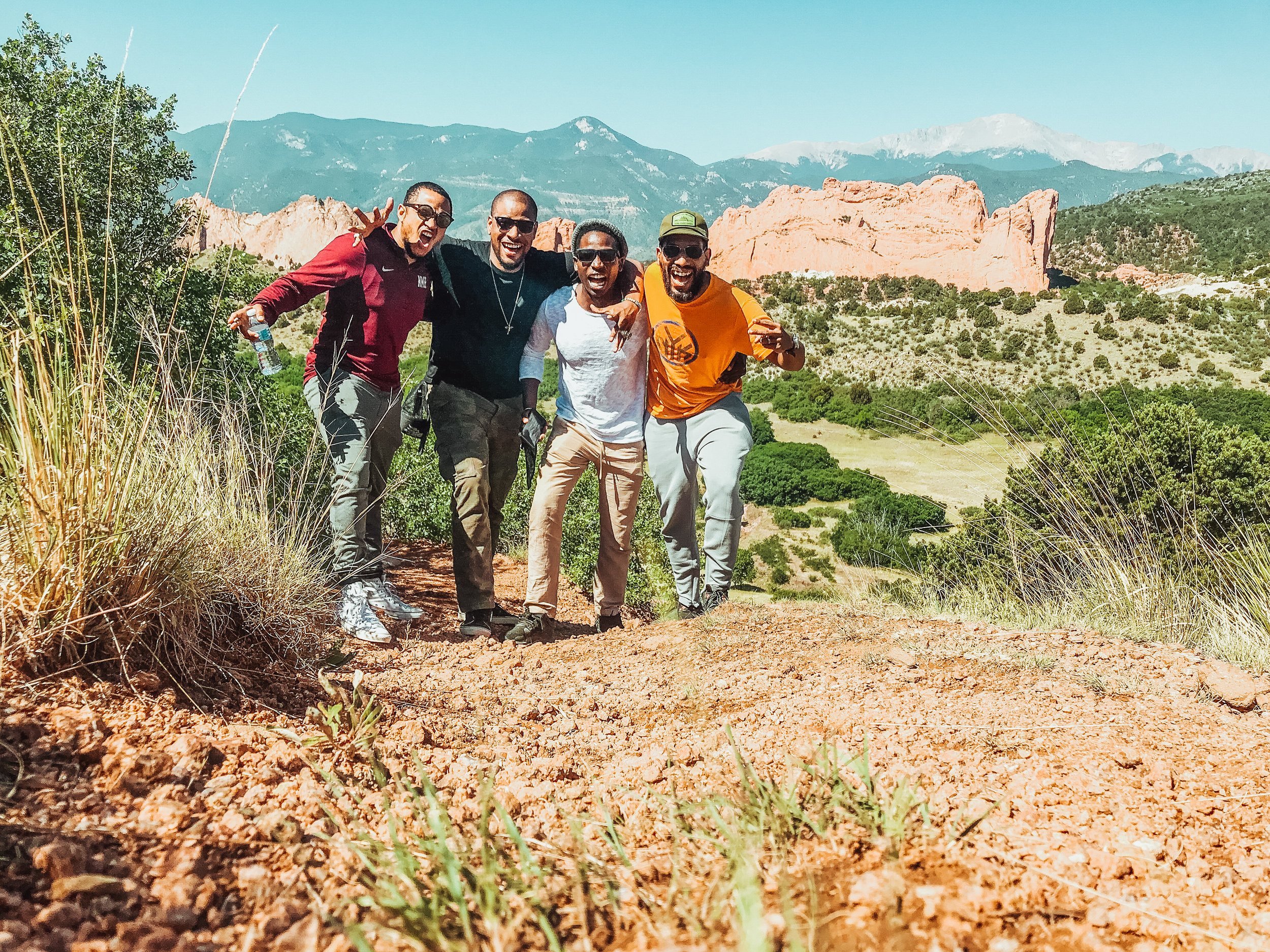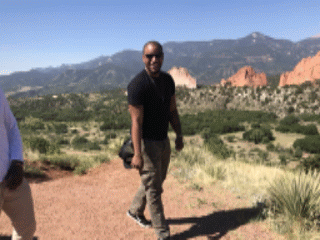 I'm leaving out the details of the amazing Ethiopian food we had with Dom Martin, while visiting the Street Fraternity Youth Organization in Denver, the dog who we almost hit on SH-50 because of a negligent owner, forcing us to swerve and almost going off the road, the middle finger given by a sunday driver, and discovering bats are creepy AF.
We accomplished so much personally, professionally and spiritually. We hope our current and future members continue to enjoy this journey of discovery with us. We're looking forward to our 2nd installment of Camping to Connect: Andes, NY, this July 7th, on 40 acres of private land.
We'd like to thank the 70 men across various cities who support us. Carlos Martinez, our gracious host, Dom Martin for letting us use his tent, and the kind people of Colorado who made our visit the first of many.